PetCubes Veterinary Support Diets are specialized meals designed to support dogs with specific health concerns.
Four formulas of Gently Cooked fresh foods catered to support the therapy of dogs suffering from Renal Disease, Pancreatitis, Digestive Issues and any condition that would benefit from a Ketogenic Diet such as diabetes or cancer.
Every formula uses only human-grade ingredients and provides an optimum-balanced diet that spans a wide range of proteins that meets AAFCO standards.
Available from Veterinary Professionals only.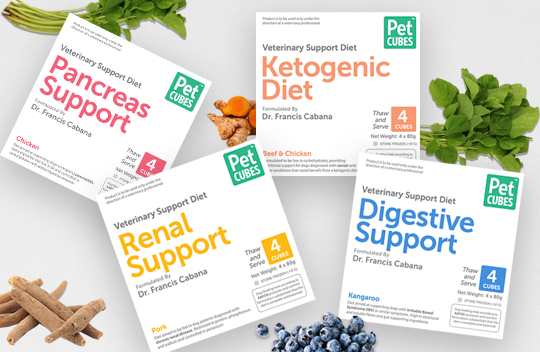 Formulated by

Dr Francis Cabana
PetCubes Director of Nutrition, PhD in Wildlife Nutrition
Our formulas have been meticulously curated by Dr Francis Cabana, a distinguished authority in the field. Through his extensive expertise, we have developed the Veterinary Support Diet range that not only meets the essential requirements but also optimizes the health of dogs facing specific health conditions. Bid farewell to the uncertainties surrounding your dog's nutrition and trust in PetCubes to deliver unparalleled quality in these difficult times.

The Veterinary Support Diets are Gently Cooked to prevent any burden on an immune-compromised dog. Our cooking process preserves protein and micronutrient bioavailability.
At PetCubes, we pride ourselves on our commitment to using meticulously selected functional ingredients. Each ingredient is chosen for its specific nutrients and remarkable health benefits that would aid in your dog's recovery.
100% Human-Grade Ingredients
Support dogs with cancer, diabetes or epilepsy.
This diet is lower than 5% in soluble carbohydrates which would support a dog's ketone energy metabolism. A ketogenic diet has been independently shown to support dogs with various health ailments such as cancers, diabetes and epilepsy. With high antioxidant contents from various sources, this diet helps to nourish and support the immune system and detox pathways.
Support dogs undergoing declining kidney function.
This formula is restricted in high quality protein and naturally low in phosphorous and sodium and high in potassium. High moisture and high palatability supports your dog's kidney treatment.
Support dogs undergoing pancreatitis.
This is an easily digestible, low-fat, soluble carbohydrate diet that is combined with digestive enzymes to aid with pancreas recovery. It will also help to sustain a healthy gut microbiome and minimise inflammation during medical treatments.
Support dogs with sensitive digestive systems and chronic diarrhoea.
The novel protein found in this formula may be helpful for dogs with allergies. It can also be used during an elimination diet. Healing ingredients that are high in soluble fibres and are gut soothing help bulk faeces while reducing hyper-immune-related reactions.
Improved faecal score, appetite, activity and body condition. Improved PLT, PCT, CHOL and CRP, ALT, GGT, urine leukocytes and protein.
Size of mass on prostate decreased after 6 weeks
Mass in Oesophagus and Lungs
Improved faecal score, appetite and body condition. Improved PLT, PCT, ALT, CRP and urine leukocytes.
© 2023 PetCubes Pte Ltd. All rights reserved.
If you are interested to carry this range, please contact our Nutritionist Hotline at +65 9830 7194